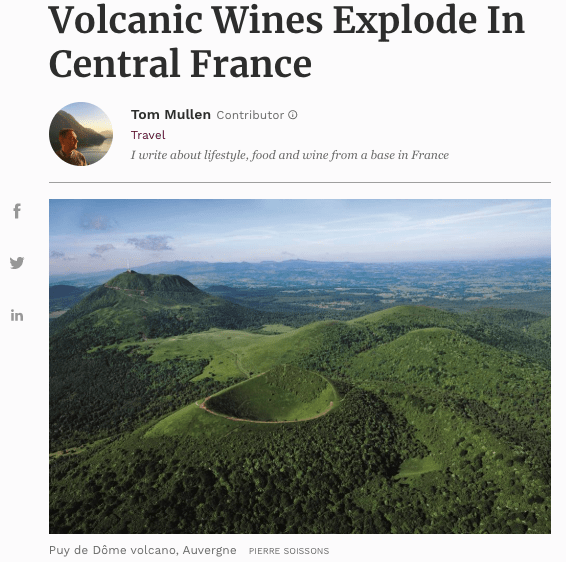 by: Frederic Coureau, Translation: Google
Forbes is a prestigious American business magazine headquartered on Fifth Avenue in New York. He devotes a beautiful article to "volcanic wines" with a focus on Pierre Desprat.
"When people think of central France, few people consider volcanoes.
However, geologically, the Auvergne region was – and perhaps still is – a sizzling place carved with sputum of magma and craters.
Because volcanoes can create complex soils rich in minerals, the vines that bloom on a previously cooked terroir can produce distinct and singular vintages… ".
From the very first lines, Tom Mullen's article is an invitation for readers of the American magazine Forbes to discover without delay the wines of the Auvergne regions.
The journalist does not forget anything about the "assets" of this territory: From the "first world fair of volcanic wine Vinora" through the UNESCO world ranking of our volcanoes or by mention of Clermont-Ferrand.
Pierre Desprat, 4th generation winemaker and whose family business was born in 1885 in Aurillac, also expressed himself in the columns of Forbes "Difference and diversity could be a real force for the future of volcanic wines".
For more information :
Article Forbes